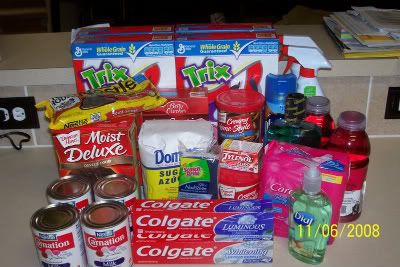 Well, today's trip went pretty good. I did have to make a few adjustments to my list cuz I couldn't find the Scotch lint rollers and they were out of the BIC Razors. So, I bought 2 Vitamin water, 2 Shout and a Pledge to meet my 30 items. I did have a problem with the Dial hand soap, the one I had wasn't attached to the sale? Got a different scent and all was well. The best thing about this trip: Haley was
not a total monster
Good! Atleast right up until check out, which really is all a mom can ask for.
On to the good stuff I got all of the above (33 items) for
$15.37
. I did have a $5 credit on my account from some ESQ's that didn't work so total before that is $20.37. I'm looking at my receipt and see that two items rang up wrong so I will be going back to get my money and thereby geting them for free! That's $2.48 in my pocket. Ya gotta love it!