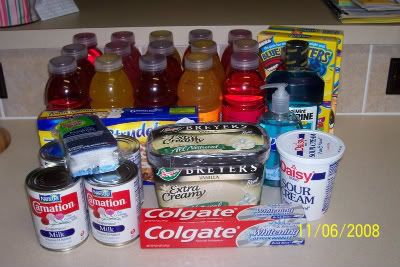 Okay, on Thurs. I went back to Kroger to get my money back on the items that rang up wrong on the previous purchase and since I was there I went ahead and did another transaction. I got another 30 items (pic is missing sugar and a Vitamin water) for a grand total of
$14.58
!
Then on Friday I went with a friend to another Kroger that has a much friendlier coupon policy. I'm now jealous of those of you who have a Kroger nearby like this.
Back to the issue, here's what I got:


On this transaction I only did 20 items for the Mega Event, however my total items was 26 for a grand total of:

$8.16

. I'm upset that one of my loadable coupons didn't come off costing me $1.29. Hey, you'd be surprised with what I could do with $1.29? Ok, ok and some coupons.